e-Marginalia FAQ: Frequently Asked Questions
So you have a question? You may find the answer below. If not, feel free to contact us directly and we'll do our best to respond quickly and thoroughly. This list of frequently asked questions (FAQ) has been developed from questions that others have asked, so your question may well make it onto this section.
What is e-Margaux.com?
e-Margaux.com
is an online travel resource which includes a growing vacation rental directory and informative travel stories and articles. Think of
e-Margaux.com
as that best friend or your friend's best friend who knows the
who
,
what
,
why
,
when
,
where
and
how
of immersion travel. Of adventure travel. Of authentic travel. We're not just-another-travel-portal or a slick, e-commerce cousin of your neighborhood travel agent. Explore
e-Margaux.com
and you'll discover what makes us unique.
What does e-Margaux.com do?
e-Margaux.com
develops and supports one of the most innovative vacation rental promotional marketing websites online and publishes
e-Marginalia.com
, a quarterly travel 'zine and travel story contest. We provide adventurous travelers with a hip, user-friendly portal for accessing the sorts of information they seek, and we connect select vacation rental owners/managers and travel service providers with the discerning clients they target.
Why e-Margaux.com?
Why not? Simple questions deserve simple answers, right? Actually, the reasons are many and growing...
Who is/was Margaux?
The 21st century's ultimate travel babe with more moxie than your travel agent and a penchant for adventure? A turn-of-the-century savvy traveler with one of the most impressive networks around. A late 18th century socialite? An early 19th century adventurer? An artiste? A baroness? It's not a simple question to answer. Instead we're collecting a collage of excerpts from those who claim to have known or known of Margaux. We will be showcasing them soon in e-Marginalia to celebrate the legendary woman for whom this website is named. Feel free to send us your own reflections.
How long have you been in business?
Maison Margaux, the first "incarnation" of Margaux Europe Group, Ltd. was established in January, 2001. e-Margaux.com was conceived the following autumn.
What is immersion travel?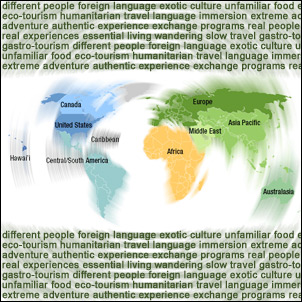 What is immersion travel, anyway?!?!
Good question. And one you can help us answer. You see, immersion travel means different things to different people: cultural immersion travel, eco/immersion travel, language immersion travel, extreme adventure travel, etc. It's most often a reference to how engaged you become during your travel experience, how authentic your travel experience is. If you frequent online travel communities, you hear more and more talk about real people sharing real experiences. This yearning for authenticity is at the core of the immersion travel movement. It's a quest for authentic, engaging encounters with the world that transport you out of the quotidian and into the unfamiliar. Into vivid, stimulating, essential living. It's about breaking away from the pack, wandering beyond the margins imposed by habit, custom and convenience long enough to see the world a little bit differently. Robert Frost's assurance that "taking the road less traveled by" makes all the difference is perhaps the most familiar invitation to immersion travel...

How can I contact e-Marginalia?
The quickest and easiest way to reach us is to visit our Contact Us page.