Apple iPad perfect for travelers?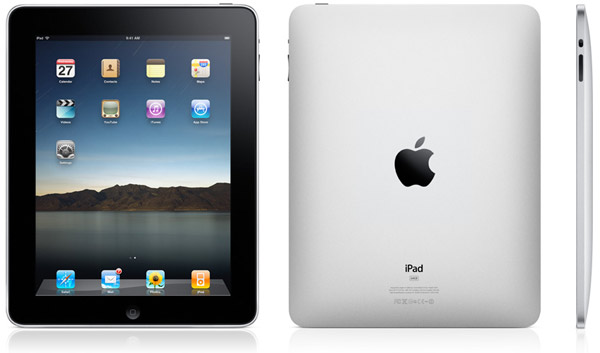 Apple iPad (Photo from Engadget
Steve Jobs is a clever innovator in many ways, but there's no question that his greatest genius is public relations. He's singularly gifted at creating not buzz, not hype, but mass hysteria around each new innovation he brings to market. World Hum's Eva Holland cuts through the Apple iPad din to summarize critics' assessment of the iPad as a travel tool.
Apple's latest gadget has inspired plenty of talk—and plenty of jokes—over the last couple of days, and among the travel media the big question has been: How will the iPad change the way we travel? (World Hum)
I mentioned earlier that Gadling's Scott Carmichael gives a decidedly pessimistic assessment of the iPad for travelers). Although the "pros" outnumber the "cons", limited storage (max. 64GB) and battery life (10 hours), absence of physical keyboard and integrated expansion (no USB, no SD card slot, no VGA, no HDMI) and international connectivity questions seem -- at least for now -- to outweigh the sexy packaging, interface and apps.
This perspective -- that the iPad is not a much anticipated leap forward for travelers -- is shared by many including Jaunted's JetSetCD who opines that the iPad won't revolutionize the way we travel.
To put it simply, the iPad is all about media consumption and not creation. It'll be great for reading eBooks, watching movies, surfing the web,... [but] it is not a standalone device; you will need to travel with your laptop in order to upload pictures and video from your camera onto it and do anything on software that doesn't work on the iPad (like Photoshop). (Jaunted)
At Cheapflights Martin Rivers beats the same drum: the iPad is only "a playback device that does very little unless you also happen to be carrying another machine." It seems that the absence of any sort of integrated expansion (USB, SD card slot, etc.) may well be one of the major shortcomings for travelers, at least for travelers accustomed to downloading and backing up photos/videos, editing photos/videos, posting photo/video/audio to travel blogs and websites. And it suffers from a memory deficit for road warriars who spend long periods away from their main machines.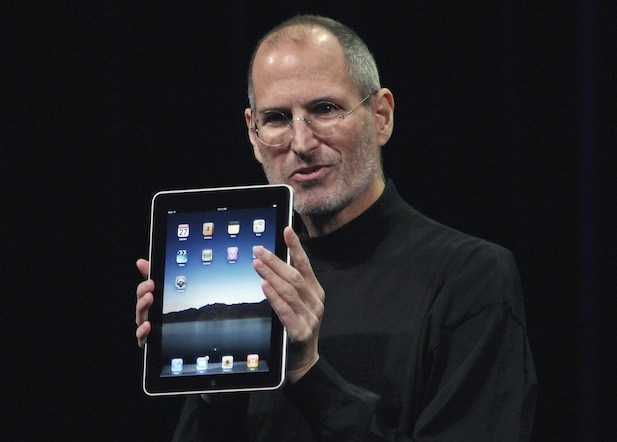 Apple's Steve Jobs with the new iPad (Photo: REUTERS/Kimberly White)
There are positive perspectives, like that presented by Engadget's Joshua Topolsky during his enthusiastic live coverage from the iPad launch and in his ongoing definitive guide to the Apple iPad. The latter, dazzled with specs and emphasizing the "combination of beautiful hardware and elegant software", doesn't shy from pointing out the shortcomings.
Apple has also made some glaring omissions with the software (and at least one with the hardware). The lack of multitasking, and the unimaginative use of all that screen real estate within the OS is disappointing and raises questions about how useful this will be as a stand in for something like a netbook (a comparison Jobs was happy to make). Overall... there seems to be a lack of maturity and imagination in the OS -- one that could make lots of users question the device's utility. On the hardware front, the missed opportunity of a webcam for things like video calls seems like a real hit here -- what better way to speak face-to-face with someone than with a device like this in your hands? (Engadget)
JetSetCD preceded his con posting with a posting that presents the iPad's merits for travelers, but it's largely limited to showcasing the specs and parroting the talking points from Steve Job's product launch. National Geographic's Mary Anne Potts offers another unabashedly enthusiastic endorsement of the iPad.
We've seen the future of travel in Apple's new iPad tablet--and, according to Steve Jobs during his press conference yesterday, it's "magical." (National Geographic blog)
Which is it? Is the iPad a traveler's friend or foe? It's still too early to decide, but if the last week's media attention is any indication, we'll be hearing a whole lot more about the debate as the product actually begins to appear in the marketplace and real world travelers start test driving it. In the mean time, Steve Jobs, you've done it again!
Additional Information and Reviews:
(Note: This posting was updated on Saturday, January 30, 2010 from the version originally posted on Thursday, January 28, 2010.)