Ecovolunteer, Not Your Average Holidays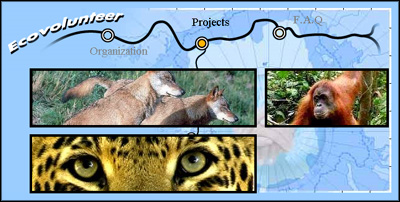 Ecovolunteer organizes conservation trips that expose travelers to destinations usually inaccessable to tourists. These are custom-built projects, from one to four weeks in length, where volunteers "get the possibility to protect nature and its inhabitants... by helping local organizations with their conservation projects." Ecovolunteer sees themselves less as a travel agent and more as a linkers, connecting people, places, needs and opportunities: "we give conservation projects a chance to get the manpower they need. And nature enthusiasts the possibility to become more active."
During recent travel in India, my wife reminded me that we had made a commitment some years back to participate in humanitarian travel, but we still haven't made the committment. The idea first occurred to us while traveling in Kenya and was rekindled when I crossed paths with Alexander Souri's Relief Riders International. (See Relief Ride through Rajasthan, India.) I intend to explore to see if it might present the sort of opportunity we're looking for.