Behind the US Open
2005 Snowboarding Championships in Stratton, Vermont
I'm soaking in the Long Trail House hot tub under a crystal-clear evening sky. It's Sunday, March 20, and—like the butter cream moon hovering above Stratton—I'm waxing slowly, shedding light but faintly, obliquely on my subject. Only, with the moon, it's picturesque, even… breathtaking.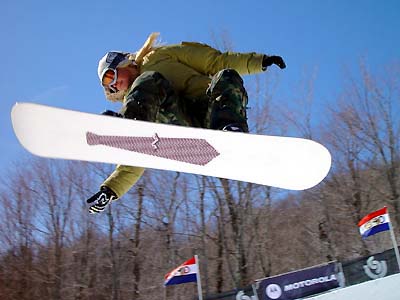 Minutes prior I was joined by an exuberant family of five who had just arrived at Stratton Mountain Resort for vacation. They were eager to hear about the snow conditions, the accommodations, the dining. The eldest of the three children, a self-proclaimed snowboarding fanatic, maybe 13 or 14 years old with long black locks falling into the bubbling water was far more interested in the fact that I had been involved in the just-ended 2005 US Open Snowboarding Championships.
Stratton Dining & Lodging
During the US Open, we limited most of our dining to Stratton Village because it was convenient and offered restaurants that could handle our large group. My daily ritual consisted of clam chowder, Caesar salad and an enormous chocolate chip cookie for lunch at the Sun Bowl Lodge each day and the evenings alternated between Mulligan's (a popular steak and potatoes pub-style restaurant; located in the ski village; telephone: (802) 297-9293) and Mulberry Street (an Italian-American family-style restaurant; telephone: (802) 297-3065), two of the principle dining options in Stratton Village.

But before settling into this belly bulging regime I kicked off the week with a decadent dinner at Mistral's at Toll Gate... [Read "Eats & Sleeps"]
In that meticulously cool teenage manner—part edgy self confidence and part "Oh, yeah, well who really gives a damn" indifference—he corralled our conversation into the now familiar but still disorienting lingo of the past week: Cab 5's, 7's and 9's, Switch Backside 7's, Frontside 9's, Switch Boardslides on the Flat Ledge… Don't misunderstand. I was way stoked to tell this grom all about the rad shredding, phat triple XL pants sag, and every last detail of the gnarliest huckfest on earth! (Need a snowboard slang primer?) But frankly I was still trying to sort it all out in my head, and the onion-skin-thin veneer of my snowboarder camouflage was no match for this savvy snowboarding aficionado.

I don't snowboard. As lone skier amidst the snowboarding masses, the week had been an eye opener. Although not a total neophyte, (that had been last year when I volunteered on the banner crew for the 2004 US Open Snowboarding Championships) being a "two-planker" simultaneously disqualified me from the insider scoop while guaranteeing a fresh (albeit occasionally facetious) perspective. Sure, at one point a member of the banner crew pointed down at my skis in mock horror, "Hey, looks like your board broke in two!" But aside from the obligatory ribbing, I found that everyone was far more eager to proselytize about the merits of snowboarding than enter into a tired skiing versus snowboarding debate. In fact, all were willing and forthcoming subjects for my non-stop questioning.

Before plunging into my 100% unofficial "inside out" look at the 2005 US Open Snowboarding Championships, a little context begs. Hosted annually at the Stratton Mountain Resort (an Intrawest skiing, snowboarding, golfing, hiking and mountain biking destination resort in southern Vermont), the US Open Snowboarding Championships marks the birthplace and epicenter of competition snowboarding. Breathed into existence in 1982 and counting among the initiates many of snowboarding's forefathers (Paul Graves, Jake Burton, Doug Bouton and others), the event was not designated the US Open Snowboarding Championships until 1985 when it was moved to Stratton Mountain from Snow Valley. At Stratton it has remained and grown ever since, showcasing the best snowboarding in the world.
The US Open takes place in the Sun Bowl, a conveniently self-contained area to the east of Stratton's main ski slopes, which minimizes excess traffic and confusion resulting from spring skiing crowd. It offers the added benefit of concentrating all three snowboarding venues—Friday night Rail Jam, Saturday Halfpipe and Sunday Slopestyle competitions—in a central location, simplifying attendance logistics, event management and press coverage.

Experienced against the gloomy memory of last year's foggy, windy and generally cruddy conditions, the conditions this year were as perfect as the glossy photographs in a Stratton Mountain Resort brochure. Robin's egg blue skies speckled with downy white clouds , a golden orb marching across the dome to keep us warm and the visibility perfect. Relatively low wind all week. Lots of crisp snow, not becoming mashed potatoes until the final afternoon. My first and last skiing of the season, I was admittedly less aggressive on the slopes than I normally would have been by this time. Nevertheless, I enjoyed skiing the impeccably groomed corduroy with snowboarders and covered most of the mountain's terrain over the course of seven days.

Ad-copy conditions and gourmet dining aside, what exactly did I discover about the underbelly of the US Open that stood in the way of a quick and tidy answer for the shaggy snowboarder in the hot tub? Unlike my previous experience "behind the scenes" at the world's oldest and biggest snowboarding championships, this year I stayed for the duration. Benefiting from a protracted stay and an imbedded perspective (I've wanted to be able to say that for a long time! This year I was fortunate enough to be armed with banner crew credentials AND media credentials.), I stumbled upon several thought-provoking aspects of the snowboarding world.
"Eats & Sleeps"
During the US Open, we limited most of our dining to Stratton Village because it was convenient and offered restaurants that could handle our large group. My daily ritual consisted of clam chowder, Caesar salad and an enormous chocolate chip cookie for lunch at the Sun Bowl Lodge each day and the evenings alternated between Mulligan's (a popular steak and potatoes pub-style restaurant; located in the ski village; telephone: (802) 297-9293) and Mulberry Street (an Italian-American family-style restaurant; telephone: (802) 297-3065), two of the principle dining options in Stratton Village.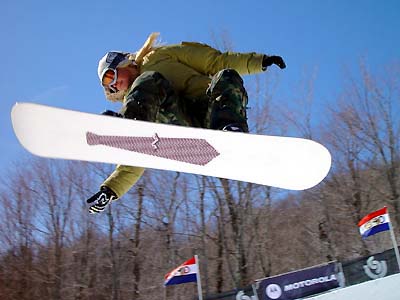 Toll Gate. Apart from a quaint storybook exterior, the first detail to grab my attention upon entering was the Wine Spectator awards which wallpaper the entrance. Mistral's has been recognized for their wine cellar consistently since 1994. Once seated along a wall of windows, we drank up the view from our table. We overlooked a snow blanketed creek and evergreen forest, spotlights dramatically highlighting the bows heavy with snow and occasional glimpses through the snow and ice of stream water. Like the set for a film.

And then it was owner/chef Dana Markey's creations which held our attention. I enjoyed delicately roasted quail for an appetizer followed by robust, artery-hardening duck which, matched and savored with a surprisingly foxy Shiraz, was on a par with the best I've enjoyed in New York or Paris. [Mistral's at Toll Gate, Toll Gate Road, Manchester, Vermont 05254; telephone: (802) 362-1779]

But man cannot live on skiing and good grub alone. After a long day on the slopes, there are plenty of comfortable places to rest your head. For the past two years I've been a guest in Long Trail House, one of the newer condominiums. This large yellow building, successfully camouflaged to fit into a typical New England village, is across the street from Stratton Village. During both visits, our accommodations have been comfortable, attractively appointed two-bedroom, two-bathroom condominiums with balconies. Long Trail House offers several outdoor hot tubs, a small outdoor swimming pool, a sauna, and other conveniences including secure, underground parking.
"Peeps"
In the hierarchy of day-to-day priorities at the US Open, advertising undoubtedly ranks very near the top. This is an event run by the Burton marketing department, who've lined up lucrative advertising contracts with companies eager to sponsor this weeklong media feeding frenzy.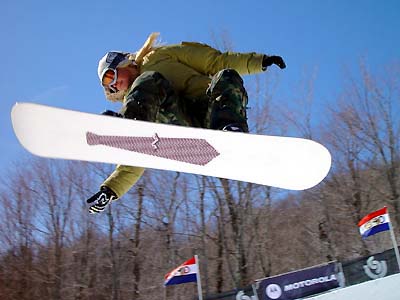 logos and slogans you see on television or in photographs—and the obliging media channels who broadcast them to the four corners of the earth. If Burton Marketing is "the brains" of the US Open, Burton Finance (the banner crew) is "the muscle", efficiently transforming ideas and plans into action and reality. But to let it go at that would be to overlook some of the history and allure. This quirky marriage of marketing and financial departments conceals several subtler idiosyncrasies.
The banner crew is a volunteer group of individuals directly (or indirectly) tied to Burton Finance and comprised of Burton Finance department employees, as well as a half dozen "Banker Boys", and a handful of oddballs like me who are just pleased to be along for the ride.
Chief and fearless leader of the banner crew is Burton's own Chris Sherman. He arrived at Stratton at the beginning of the week, more than willing to trade in his desk for a 600-horsepower Skidoo snowmobile. Over the next couple of days, as his colleagues arrived, he set in motion the routines and schedules to implement the marketing department's master plan for the US Open 2005. By the time the "banker boys" arrived midweek, Chris was marshalling his now-flush ranks with alacrity and precision.
The "Banker Boys"—executives at several prestigious, well-heeled investment banks (JPMorgan, HSBC, Royal Bank of Canada, and Citizens Bank) with whom Burton does business—exude unabashed pride in this longstanding tradition. Generously committing their time and energy, they joke about the challenges of explaining this client call to their colleagues and seem to sincerely enjoy receiving orders for several days instead of issuing them.
Frankly, these guys are great. Their enthusiasm for snowboarding, Burton and the US Open has propelled the daily task of mounting, maintaining and dismounting advertising panels and banners for a dozen or more years. (I think the most longstanding member of the banner crew has been helping out for 16 years!) But once the work is done, always with good humor and seasoned camaraderie, these five ostensibly straight-laced bankers, love to let loose and celebrate.
In addition to Burton guys and the "Banker Boys" there are the "Randoms" who fill in the gaps of the banner crew. That'd be the folks like me; a couple of ex-Burton hangers-on (former Burton employees who find it easier to move on from their employer than their annual US Open ritual); and two "old friends" who've been lightening the mood for years. We're the ones who come up to join a week of craziness for no apparent reason other than, well…playing outdoors, partying like rock stars and loading up on all the cool free stuff!
Once the Halfpipe finals begin on Saturday, there's another noteworthy addition to the banner crew: Chill Kids. Chill is a non-profit intervention program that teaches underprivileged and at-risk inner city kids to snowboard. Targeting youth in eleven North American cities including New York City, Los Angeles, Seattle, Toronto and Vancouver, Chill's mission is to "provide these troubled kids with a vehicle for personal achievement and success through snowboarding."
Of the more than 1,500 kids who received lift tickets, instruction, transportation and equipment through the Chill program this winter, twenty seven were selected to attend the US Open as members of Saturday's Halfpipe banner crew.
They instantly integrated themselves into the task of organizing, dispensing and mounting the advertising banners which lined both sides of the Halfpipe during competition. Their hustle was refreshing, and their enthusiasm for participating in the US Open was endearing and infectious.
"The 27 inner-city kids representing Chill at the US Open were a positive, powerful part of the weekend," said Chill Director, Jenn Davis." Some of the kids visiting are wards of the state, some are recovering addicts, they are kids from low-income, crime-ridden neighborhoods in each of the nine cities that Chill serves. It was our pleasure to be able to provide them with a life-impacting experience at the US Open. These kids were absolutely thrilled to be in Vermont and special guests of Burton and Chill." ( www.snowboardermag.com)
So that's the banner crew in probing detail.
Well, almost. There's an essential element of the banner crew's endeavor that gets routinely overlooked. For the last two years that I've volunteered at the US Open, the Stratton Mountain Resort staff have awed me with their ability to produce this multifarious event smoothly and on time. There's the subtle day-to-day assistance like the snowmobile driver—bearing an uncanny resemblance to French actor Gérard Depardieu—who whisked me up from the Base Lodge and transported me to the Halfpipe in time to see the first competitors when I was delayed. But there are two individuals in particular who are absolutely instrumental in the success of the event year after year.
When it comes to setups, to breakdowns, to framing start gates, to securing transportation for material and volunteers, when it comes to all of the technical logistics entailed in producing the US Open, Roger and Rich are the solution. I've never once heard either of these guys say something can't be done. Zipping from place to place on work-worn snowmobiles, permitting them to be everywhere at once, Roger and Rich are the perennial problem solvers, indispensable to the success of the event. In fact, despite the fact that neither works for Stratton Mountain Resort any longer, they were both persuaded to return temporarily to ensure that everything would proceed smoothly.
"Amps"
Of course, I would be remiss if my exuberance for the banner crew distracted me from dishing up my perspective on the most important people at the US Open: the riders. This event is, as the announcers love to say, the "gathering of the tribes" for snowboarding. Not just East Coast, not just West Coast, not just East and West coast, but the entire world of snowboarding comes together for the US Open Snowboarding Championships.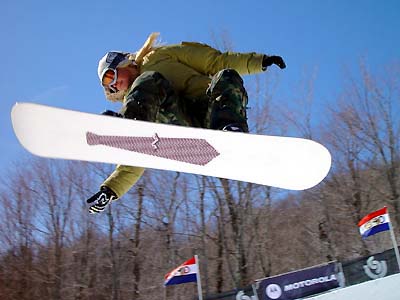 of the Halfpipe while pro riders exploded into the air directly above me. At Rail Jam I shot images from the Press-VIP Tower, and at the Slopestyle event I collected digitals from the course itself despite the repeat admonitions from course attendants who kept reminding me to distance myself.
Of course, no recap of the 2005 US Open should open without a tribute to the amplitude gods. It's tough to spend time around snowboarders without hearing constant references to "going big" and amplitude. As the world of snowboarding competition has evolved away from events borrowed from downhill skiing and motocross and toward events adapted from skateboarding, it would seem that there's no limit to big riders can and will go.
But amplitude alone is no longer good enough. If the Kelly Clarks and the Abe Teeters have been propelling us higher and higher into the stratosphere, there's a whole new generation of snowboarders who are upping the ante by refocusing the judges on style. That is to say, the sport seems to be pursuing quality in addition to quantity, attitude in addition to altitude, and technical finesse in addition to brazen chutzpah.
Finals opened on Friday with the much vaunted Rail Jam, an overtly skateboard influenced event. "The setup replicated seven different urban rail and stair features and included a gap rail… it was very similar to actual rails and stairs they [snowboarders] session in the city." (www.skipressworld.com) The extremely short course included a small start slope for riders to pick up momentum, followed by a veritable jungle of stairwells, round handrails and broader, sloping ledges or "down boxes" and was ideally suited for spectator viewing. With bleacher seating on either side and stadium lights flooding this snowy "skate park", photographers jockeyed with television camera booms for good shots while the competitors hurtled through the course again and again, executing jumps, slides and various gut-wrenching tricks for the judges
It was clear to my uninformed eye that the stunts the riders attempted were difficult and dangerous. Nevertheless, only one competitor, the famed Shaun White, sustained injuries. "Shaun fell off a down box on his first run of the Jam and did not return to the competition" (www.usopen-snowboarding.com) after hurting his back.
It wasn't all bumps and bruises at the 2005 US Open. Snowboarding champions rose to the occasion and pocketed impressive piles of loot! Wondering who won all of these crazy events? And what sort of numbers the bean counters can drool over? Here are the results:

Rail Jam
• Women's 1st – Leanne Pelosi - $10,000
• Men's 1st – Eddie Wall - $10,000

Half Pipe
• Women's 1st – Gretchen Bleiler - $20,000
• Men's 1st – Danny Kass - $20,000

Slopestyle
• Women's 1st – Janna Meyen - $20,000
• Men's 1st – Risto Matila - $20,000

[View "Champs & Chang"]
But danger and potential death do not seem to daunt these young competitors in the slightest. Like an infestation of mopeds caroming through a traffic-locked tunnel in Rome, rider after rider exploded through the daunting obstacles while the announcers' interpretations filled the chill night air. Reaching the end of the course mere seconds after beginning, they removed their snowboards, slouched meaningfully (an "attitude artform" perfected by all riders) back up the slope, swaddled in grossly oversized, garishly decorated costumes, their short, choppy steps determined by the sag of their snow pants.
As for judging the winners and losers, I admit that the subtleties were altogether lost on me. Even differentiating between riders was pretty challenging! Fortunately, there were in our midst, those highly trained professionals capable of filtering the Rail Jam acrobatics into tables of winners and losers.
"Eddie Wall and 2004 US Open rail jam champion Leanne Pelosi won tonight's US Open rail jam finals in a star-studded contest that included snowboard heroes Danny Kass and Shaun White. Chris Rotax and Alexis Waite earned the SoBe Sick Trick Award and walked away $2,500 richer." (www.skipressworld.com)
Leanne Pelosi—who also won Rail Jam last year (the first time women had ever competed in this event)—and Eddie Wall each pocketed $10,000 for slam dunking this thrasher skate park style event. And second, third and fourth place riders for both men and women walked away from the stage with $5,000, $2,000 or $1,000 respectively. So despite my inability to fully fathom the maelstrom of snowboarders crashing through wood and steel obstacles, ten of them had earned over forty grand in a few exciting minutes!
Saturday's big event was my favorite: the Halfpipe.
"For the uninitiated, the Halfpipe is one of the most important trick venues in freestyle snowboarding. Think of a channel shaped like the lower half of an enormous tube and carved out of hard packed snow. The walls of the tube are of equal height and consistent distance from one another (roughly 15-18 yards apart and 6 yards high) enabling snowboarders to maximize a pendulum motion as they ride back and forth while proceeding toward the bottom of the hill. Running well over one hundred yards in length, this tube permits snowboarders to ride downhill, ramping and performing tricks off of the opposing sides." (www.e-margaux.com)
It was during the Halfpipe competition that my combination of banner crew and media credentials really paid off. I hunkered down quite literally at the edge of the riders' second or third (depending on which side they started from) "hits", a term which refers to the moment when a snowboarder reaches the top of either side of the Halfpipe and performs some sort of trick. I snapped shots of riders exploding up, out of the Halfpipe, often directly above me, silhouetted against the blue sky. It was exhilarating! The photos will speak for themselves.
I witnessed dazzling performances from "brand name snowboarders" like Aspen, Colorado native, Gretchen Bleiler, and New Jersey (turned California) native Danny Kass. Bleiler, who repeated her 2003 US Open Halfpipe victory after an already awesome year which included winning the Gravity Games and the X Games, executed a perfect inverted 540 (that's right, one and a half times around while upside down in the air!) more popularly dubbed "the crippler" for obvious reasons. And Kass, known for amplitude of the thin air variety, performed daring aerial antics to win his fourth US Open Halfpipe title (a new and much lauded record). Bleiler and Kass each took home a tidy $20,000 purse for their efforts, and the runners-up didn't fair too poorly either.
Another fun record: "for the first time ever, three siblings—Abe, Elijah and Hannah Teter—all made it to the Halfpipe finals." (www.usopen-snowboarding.com) On a less celebratory note, Shaun White was absent from halfpipe competition due to the back injury he sustained during the Rail Jam, and native Vermonter and legendary 2002 Olympic Halfpipe gold medalist, Kelly Clark, was also unable to compete in finals due to a thigh injury she sustained during trials.
"Champs & Chang"
It wasn't all bumps and bruises at the 2005 US Open. Snowboarding champions rose to the occasion and pocketed impressive piles of loot! Wondering who won all of these crazy events? And what sort of numbers the bean counters can drool over? Here are the results: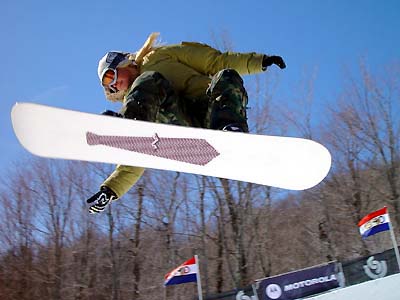 Spencer O'Brien - $2,000
4th – Marie-France Roy - $1,000
SoBe Sick Trick Award - $2,500 and a Motorola phone - Alexis Waite
• Men's Final Results
1st – Eddie Wall - $10,000
2nd – Yale Cousino - $5,000
3rd – Jed Anderson - $2,000
4th – Sylvain Beauchesne - $1,000
SoBe Sick Trick Award - $2,500 and a Motorola phone - Chris Rotax
Half Pipe
• Women's Final Results
1st – Gretchen Bleiler - $20,000
2nd – Torah Bright - $10,000
3rd – Hannay Teter - $5,000
4th – Tricia Byrnes - $2,000
Nintendo DS Best Trick Award - $5,000 - Torah Bright
• Men's Final Results
1st – Danny Kass - $20,000
2nd – Steve Fisher - $10,000
3rd – Antti Autti - $5,000
4th – Keir Dillon - $2,000
Nintendo DS Best Trick Award - $5,000 – Abe Teter
Slopestyle
• Women's Final Results
1st – Janna Meyen - $20,000
2nd – Leanne Pelosi - $10,000
3rd – Natasza Zurek - $5,000
4th – Jamie Macleod - $2,000
• Men's Final Results
1st – Risto Matila - $20,000
2nd – Jussi Oksanen - $10,000
3rd – Andreas Wiig - $5,000
4th – Scott Lago - $2,000
The final contest, Sunday's Slopestyle competition was as spectacular as it was challenging to asses. The Rail Jam and Halfpipe competitions concentrate the obstacles and tricks within a limited viewing area so that spectators can simultaneously observe contestants full runs. The Slopestyle competition, on the other hand, is situated high on the mountain and stretches over a lengthy slope limiting spectators' ability to watch more than one or two obstacles. The course includes massive jumps, rail slides and "down boxes", and due to the much longer course, riders are capable of achieving higher speeds and hence "bigger air".
Aside from the thoroughly impressive spectacle of snowboarders catapulting through the ether while twisting, spinning and flipping, I found it incredibly difficult to imagine how the judges could evaluate each competitor's runs from a single vantage point. Maybe I missed something essential, but the running commentary and the eventual results lacked obvious context for the eye candy I enjoyed. Of course, I should probably admit that the exotic lexicon used to describe what I was witnessing also lacked any sort of relevant context… Nevertheless, winners were declared.
"Slopestyle superstar Janna Meyen [competing for the sixteenth consecutive year] stomped an impressive second run to take the title with a frontside 5, backside 5, Cab 3 and Cab 7. Her Cab 7 on the fourth hit also earned her the $5000 Tylenol Best Trick award, increasing her paycheck to $25,000 for the day." (www.usopen-snowboarding.com)
Did you follow that? If so, then you'll understand this too.
"Finnish rider Risto Mattila stole the show with his switch backside 7, Cab 9, frontside 9, Cab 5 and a frontside boardslide on the flat ledge. Jussi Oksanen earned the second place spot on the podium as well as the $5000 Tylenol Best Trick Award with his switch backside 9 to Lein. And Andreas Wiig earned third place with a super solid second run that included a Cab 7, switch backside 9, backside 7 and frontside 5." (www.usopen-snowboarding.com)
Of course, if your snowboarding slang fluency is no better than mine, you're probably just hoping I'll cut to the chase: who were the overall winners of the US Open Snowboarding Championships?
This year's overall stars were in for more than just a heap of glory. The top female and male rider would each win a brand spanking new Volvo V50 Sports Wagon. And the top up-and-coming female and male riders would each receive a Ski-Doo Summit Adrenaline 600, a snowmobile designed specifically for back country snowboarding. Both had been on display all week in front of the Sun Bowl lodge for us to drool over. So on day three of the finals, when the results were in and the snow settled, the winners were announced: Canadian rider Leanne Pelosi and Finish rider Risto Mattila took home the slick new Volvos and Spencer O'Brien and Danny Davis took home the Ski-Doos.
"De-Marginalized"
With over a quarter million dollars in prizes (cash, cars, etc.), it's abundantly clear that the US Open Snowboarding Championships are about more than just fierce competition and a gathering of the tribes. This event represents the pinnacle of professional sports marketing, the meticulous alchemy of athletics, entertainment and commercialism. Across its 23-year history—from humble conception as the National Snowboarding Championships to the spectacular US Open of today—the "Super Bowl" of snowboarding has evolved beyond anyone's wildest expectations or predictions. While it's always easier to judge from whence we've come than to understand the present or presage the future, my outsider's perspective permitted a glimpse into snowboarding not often paraded across the covers of the industry glossies.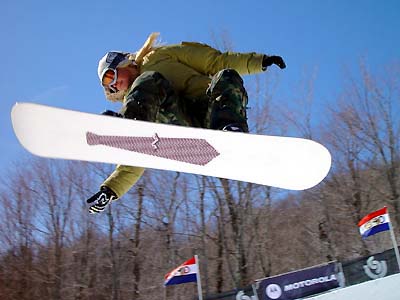 bigger and "badder" than you can anticipate. From the increasingly posh venue (owner/operator Intrawest has been making improvements to the Stratton Mountain Resort at a dizzying rate) to the splashy productions of high profile sponsors, from the carefully choreographed media output to the entertainment quotient (underground hip-hop phenomenon, Talib Kweli, dropped in for a "surprise performance" after the Rail Jam awards ceremony), the US Open has traveled far from its funky grassroots origins.
Commentators and advertisers often evoke those simple, fly-by-the-seat-of-your-pants roots when snowboarding equipment and apparel were improvised, and the only "rider lifestyle" was a shared passion for snow surfing instead of skiing. By definition those pioneers competed and innovated at the periphery of the winter sports industry.
Of course, time and success changed all that. Today, as evidenced at the US Open and dozens of publications and websites dedicated to the sport, snowboarding has swung from the margin to the mainstream. Snowboarding is quite literally eclipsing skiing as the hip, glam and only cool winter mountain sport and lifestyle. But its success presents some complicated challenges.
Those early days profoundly influenced snowboarding culture. It was alternative in every sense. In fact, it was so alternative, that it was close to a decade before most people even realized it existed. Many ski mountains banned it or limited access which inevitably pitted snowboarders against skiers and exclusive skier-centric mountains. Struggling for turf, snowboarders were perceived as rebellious as they sought to subvert the norms, the restrictions, the stereotypes. Due in part to this renegade reputation—and in part to the generally risk-averse nature of large corporations—snowboarding was not initially embraced by the ski industry titans. Instead, dozens of small upstarts began designing and producing snowboarding equipment and apparel to accommodate and propel this fledgling movement.
So the snowboarding culture was born: alternative, rebellious, blatantly subversive and decidedly un-corporate. This formula proved to be, well, highly effective, especially for selling snowboarding to the young generation already grappling with many of the same issues. Despite the maturation of the industry and the eagerness of more conventional ski industry companies to join in, this early established culture persevered, due in part to recognition by savvy marketing gurus that it was a highly effective sales niche.
Today, with the snowboarding industry booming and the un-corporate startups becoming seasoned, mainstream conglomerates (or else being gobbled up by other seasoned, mainstream conglomerates) it strikes an ironic chord to witness a snowboarding industry struggling to define itself as ever more alternative, more rebellious and more subversive. As the industry inevitably grows more and more corporate, more and more conventional, great effort goes into contriving a sort of ersatz funkiness hearkening back to the grassroots days of yore.
What do I mean? Am I implying that the inevitable byproduct of the industry's image-conscious marketing is that snowboarding is becoming a caricature of itself?
No. My depth of experience is sufficiently shallow that any such sweeping observations elude me. Yet I can't help but have the impression that snowboarding is concluding its innocent and experimental youth and entering an awkward adolescence, conflicted between spontaneity and rebellion and a more conservative, more calculated adulthood.
After a quarter century has snowboarding become conventional or is it simply coming of age? Let me share several indicative anecdotes garnered from my week at Stratton.

Chatting over lunch in the Sun Bowl Lodge, Burton's in-house legal council began discussing the recent acquisition of Four Star Distribution's snowboarding brands: Forum Snowboards, Jeenyus Snowboards Jeenyus Snowboards, Foursquare Outerwear Foursquare Outerwear and Special Blend Outerwear. He was grumbling about the challenge and inconvenience of absorption. Apparently it was taking a vast amount of work to get these little companies up to the sort of corporate muster mandated by Burton which involves good transparent bookkeeping, verifiable records and enforceable contracts with manufacturers, sponsored riders, etc.

I laughed and asked if the haphazard business practices he was struggling to overcome weren't endemic to the industry. He acknowledged my point but was quick to assure me that times are changing. The sloppy bookkeeping and accounting practices tolerated in the past are no longer acceptable as mergers and acquisitions render more conventional corporate frameworks, emphasizing transparency and accountability.

Another anecdote comes from a conversation I overheard between Hannah Teeter and Abe Teeter following the Halfpipe competition. Hannah announced to her brother that he'd won the $5,000 Nintendo DS Best Trick award for his frontside inverted 9. "Yes!" he shouted and pumped the air with his fist. "That's great because I'm totally broke." It reminded me of the sort of excitement voiced by a waiter or bartender after receiving a particularly good tip. Is snowboarding just a job?

Perhaps even more telling is the emergence of The Collection, a cooperative of top tier professional snowboarders including Ross Powers, Kelly Clark, Gretchen Bleiler, Andy Finch and Luke Mitrani.

"[The Collection is] a group of five top snowboarders who banded together at the 2004 Open to create the sport's first rider-controlled team. Since then, the Collection has hired a coach, physical therapists and a team manager to make travel arrangements and haul gear to events. The riders also share expenses during the week of an event by staying together in a rented house." (www.nytimes.com)
Sounds like good business, right? It is! Listen to this:

"Partnering with The Collection gives the Snickers brand a unique an authentic vehicle to connect with a younger audience and become more relevant in their everyday active and individual lifestyles," said Janis Smith-Gomez, Vice President, Marketing, Masterfoods USA. "The Collection and snowboarding represents a drive and spirit that is consistent with what the Snickers brand is trying to achieve as the fuel to 'keep you going' and playing." (expn.go.com)
More mergers and acquisitions. It seems to echo Burton's decision to add Forum, Jeenyus, Special Blend and Foursquare to their existing portfolio of brands which includes Burton, Analog, Anon, RED and Gravis. In either case, it's a cunning strategy: create and leverage "a unique and authentic vehicle to connect with a younger audience and become more relevant in their… lifestyles." Sort of a marketing Manifest Destiny.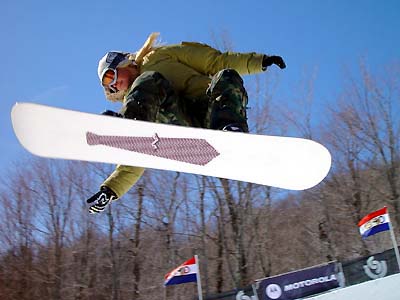 Even my fellow members of the banner crew seemed to sense the shift, repeatedly commenting on the evolution of their role over the years. "It's gotten so easy now!" I heard it again and again as they waxed almost nostalgic about the chaotic past and acknowledged a subtle feeling of guilt now that things had become so easy and organized.

So what of it? It's normal for things once amateur to evolve and become more professional. Certainly efficiency and streamlining are not typically considered Doomsday indicators, right? Well, I can't help but wonder about the future of snowboarding's grassroots funkiness wherein lies much of its uniqueness and much of its appeal.

This rider-driven world of snowboarding stepped so cleanly and intentionally away from the tried and true model of the ski industry back in the early 80's, and redefined what mountain snow sports were all about. It still permeates the industry today: the funky grunge apparel worn by snowboarders; the gargantuan emphasis on attitude and anti-style; the loud, driving, rebellious, sometimes angry music; the snowboarding media's (magazines, movies, etc.) flirtation with danger, the out-of-bounds, the unknown, the unexplored; the extraordinary importance placed on letting loose, partying and so on. At least on the surface snowboarding flaunts its marginal culture.

And yet snowboarding is an industry that's coming of age, an industry that's quickly shifting from the marginal to the mainstream. With vast financial and organizational resources now propelling the snowboarding industry, it's all but inevitable that the funkiness and the un-corporate, rider-driven world of yesteryear will have to evolve. This evolution toward widespread standardization, clear and transparent commercialism and hierarchic, sometimes clumsy corporate structuring will change the snowboarding culture forever.

Finding itself in this conflicted adolescence complete with self-conscious growing pains, the snowboarding industry is exercising its marketing muscle more effectively than ever to conjure up the renegade lifestyle so appealing to young consumers, while simultaneously adapting to the conventions of "big business". Put another way, the snowboarding industry's modus operandi is to leverage the much hyped un-corporate image of snowboarding to fuel the thriving corporate juggernaut that it is becoming.

Goodbye carefree, and over exuberant youth. Hello thriving, but considerably more button-down and hemmed in adulthood.
"Schwag-o-rama"
During my week at the 2005 US Open Snowboarding Championships the term swag or schwag rolled off of people's tongues so often and in so many contexts that I finally Google-ed it and then Bartleby-ed it. Soon linguistic help was on the way.

The American Heritage Dictionary offered predictable if somewhat less than 100% relevant options, and UrbanDictionary.com promised a "higher" definition. But frankly I remained unclear what exactly people were referring to. Then I came across two instructive articles at Wired.com: "Schwag Bag" and "Great Moments in Schwag History".

Suddenly everything was clear!

The term swag gets bandied about at the US Open so often because it's, well, to some degree it's what the US Open is all about. Swag refers to the sort of customized promotional products given away for free at large trade show and promotional events. Freebies stamped with promoters' logos, websites and brands in the hopes that potential consumers will take the bait.

Something for nothing? Great!

And, according to conventional wisdom, branding will then work its magic, extending its subtle tentacles into your purse.

Swag, as I now understand it, is intrinsically part of the US Open Snowboarding Championships. Amidst the oohs and aahs of the spectators and the gravity-defying antics of the competitors, it's nevertheless difficult to overlook the fact that the US Open is the schwagfest of the year!
By George Davis - If the US Open is the snowboard marketing event of the year, unabashedly driven by product placement and branding opportunities, then it's also the world's single greatest freebie extravaganza. There were ski hats and gloves from Volvo and Nintendo DDS; product giveaways from Tylenol, Paul Mitchell, and Sobe; and cellular telephones and services from Motorola. Not to mention Ski-Doo snowmobiles and Volvo sport wagons! And it would seem that some attendees' sole mission was to gather as much loot as possible. Even among the banner crew there were those who made it their business to frequent the advertiser promotional booths each day in search of much coveted swag. Perhaps there's an answer encoded on the human genome that explains the biological drive to collect free stuff.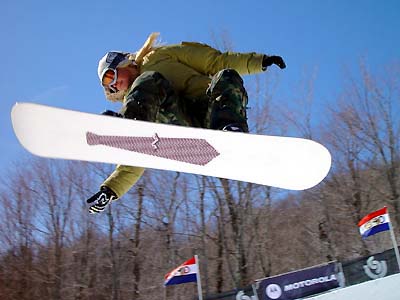 Although I avoided the swag feeding frenzy each day, it was due to an aversion to the frenetic, body-to-body atmosphere and not an immunity to swag hysteria. Indeed I was thrilled on Sunday afternoon when, prior to exchanging goodbyes, Chris Sherman, the banner crew head honcho, rallied us in the muddy parking lot behind his vehicle for a coveted US Open ritual. Once all of the take-down and clean up were behind us, suddenly, as if on cue, anyone and everyone who had anything even remotely to do with the banner crew materialized in the ankle deep mud of the parking lot to wait for the legendary Burton "thank you" handouts.
Burton has earned a reputation over the years for generously rewarding all of the banner crew volunteers with coveted Burton accessories. Not to be outdone by the other sponsors, Burton lavished gifts upon us including a 2005 US Open snowboarding backpack, a cozy 2005 US Open hooded sweatshirt, a pair of Burton gloves and a 2005 US Open t-shirt. In addition, they had picked up the cost of our accommodations, our ski passes and most of our meals including the infamous banner crew dinner, complete with food fight, bottomless cocktails and colorful humor.
There we stood, ankle deep in the brown, soupy mud, arms laden with Burton swag, and spirits fluctuating between relief that the week was over and pangs of melancholy for the same reason. It was the inevitable denouement.
Little did I know that only a couple of hours later I would be asked to share my "inside out" perspective on the 2005 US Open Snowboarding Championships with a teenage snowboarding fanatic. Nor could I have guessed that the story I'd recount—unlike the snowboarding media's idolatry of the adolescent stars—would focus on the awkward adolescence of the media star, snowboarding.
I pulled my snazzy new hoody over my head and adjusted my new Burton pack, wondering as I trudged through the mud if my 2005 US Open snowboarder camouflage belied the "two-planker" within.