Discovering Italy's Wine Towns
After our first trip to Italy many years ago, my husband Fred and I fell in love with the country, and it has become our favorite vacation destination. In our earliest trips, we saw the many famous cities and sights that are on every tourist's itinerary, but with each visit we ventured further off the beaten track. We soon discovered that meandering along country roads and stopping when we saw something that caught our interest offered unexpected rewards. With each trip, we planned less of our journey, choosing instead to visit within a particular region or two, and let our instincts guide us. On one particular trip, our plan was to explore the area between Florence and Rome before heading south to the Amalfi coast.
After beginning our trip with a few planned days in Florence, we set out into the Tuscan countryside. We began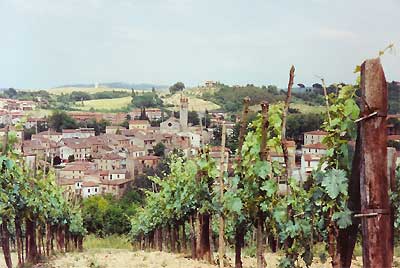 our excursion by traveling along the Via Chiantigiana, the principal road through the hilly Chianti region, home to the makers of Italy's classic red Chianti Classico wines. Each hillcrest revealed panoramas of ancient stone farmhouses surrounded by vineyards. Villages perched on hilltops were often surrounded by walls, their strategic positions attesting to the many wars that were fought there in medieval times. The town of Greve was the largest we passed through, its central piazza surrounded by pretty arcades and terraces. It had shops offering tastes of the wine and other local products, which we sampled, then bought some provisions for a roadside picnic. We made a short stop in Castellina, dominated by a medieval fortress with stunning views. There we found more shops offering tastes of the local Chiantis. We didn't dare sample too many wines while navigating the steep, unfamiliar roads, so we began looking for a place to spend the night. Hotels are not plentiful in this area, but we found a small, simple albergo outside of Radda, which had a restaurant so we wouldn't have to venture out at night.
Entering the restaurant that evening, we were surprised to see it was nearly full. We were seated at the only remaining table, adjacent to the kitchen, where we could see a flurry of activity. Women covered in flour rolled out endless sheets of pasta, while others grilled meats over an open fire in a wood-burning oven. We anticipated a wonderful meal.
The same ladies who toiled so hard in the kitchen were also waiting on the tables. It quickly became apparent that there was no organization to their operation. Some tables got waited on, some didn't. We finally flagged one of the ladies down and asked for a wine list. We were in the heart of Chianti wine country, and every table had at least one open bottle of wine on it. We looked forward to choosing just the right one, but when the list was finally brought to us, it had a rather limited and pricey selection. Amazingly, there were not even any Chianti wines offered. Rather perplexed, we ordered a wine from another area of Tuscany, and waited for someone to take our meal order. It was an extremely long wait. Try as we might, we could not get the attention of the ladies as they scurried back and forth to the kitchen. Finally, one came out and set in front of us a plate of crustini, little rounds of toasted bread with toppings, which we had not ordered. They looked good and we were very hungry, so we ate them without questioning. Eventually, we ordered and got a delicious meal of ravioli with sage, followed by roasted pork.
While waiting for our meal, in the kitchen I saw an old man at the sink filling various types of wine bottles from a huge straw-covered jug. It dawned on me that what appeared to be a wide variety of wines on all the surrounding tables was really local Chianti from this jug served in recycled bottles. We were probably the only ones in the restaurant not drinking it! An important lesson had been learned: when in a wine town, order the local wine.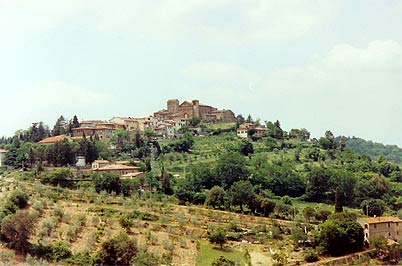 The next day we wandered the roads south of Chianti, abundant with olive groves and vineyards. We drove for miles through the vineyards owned by Villa Banfi, one of the best-known importers of Italian wine to the US. We learned that Banfi's vineyards encompass over 7,100 acres.
On a distant hilltop we saw a walled-in town, which a check of our roadmap told us was Montalcino, home to one of Italy's finest and most expensive red wines, Brunello di Montalcino. We decided to stop there. Inside the walls, we followed signs to the Fortezza, a castle sitting on the highest point of town. The castle offered panoramic views of the surrounding countryside. It also held an enoteca, or wine bar, which served glasses of the local wine. We walked around the small town in which every street offered magnificent views. We soon reached the Piazza del Popolo, with a tall tower, sidewalk cafes, and another enoteca.
Montalcino seemed like a good choice in which to stay. From here we could travel to some of the other area towns. We located a hotel in the center of town. When asked if there was a room available, the desk clerk indicated they did have one room left, but we wouldn't like it. Fred asked her if it was a room for two people, and she said it was, but still seemed certain we wouldn't want
the room.
She was getting flustered at our inability to understand what she was saying, so I suggested we look at the room to see for ourselves. As she ushered us up the
stairs, I finally thought I understood what she was telling us, and when she opened the door to the room, my suspicions were confirmed. Bunkbeds! The hotel was attractive and conveniently located, so to her surprise we took the room anyway. After a slight disagreement over who would get the upper bunk, we settled into our quirky quarters.
At dinner that evening, we met two German bicyclists who were staying in a different hotel, and they had bunkbeds as well. We learned that this area of Tuscany is popular with cross-country bicyclists, who generally look for economic accommodations in dormitory-style hostels. Since there were no hostels locally, some of the hotels offered this sleeping arrangement as a less expensive alternative to traditional rooms with two beds.
Although we wanted to visit the neighboring towns, one night in bunkbeds was enough, so we headed for a new destination in the morning. We briefly stopped in nearby Pienza, where we again bought picnic provisions, then headed on to the hilltop town of Montapulciano. Of all the hill towns we had seen so far, this was the steepest. Entering the city walls, we encountered extremely narrow streets, so confusing in their layout that we soon found ourselves exiting the walls in a different direction. There, in an open field below us, was a pale gold domed church. It was a beautiful and unexpected sight, and we stopped for a look inside. We had found the Tiempo di San Biagio, a 16th century church constructed of limestone.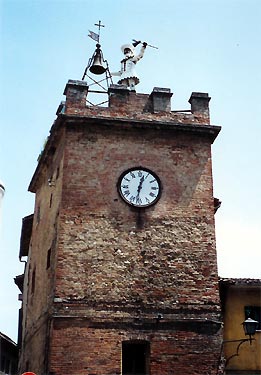 Adjacent to the church's parking area, in a cave beneath the town, was another enoteca, offering tastes of Vino Nobile di Montapulciano, a celebrated Tuscan red wine. The cave was filled with huge barrels of the wine in varying stages of the aging process. After plying us with samples of wine, cheese, and sausage, the proprietor tried to get us to hawk his establishment to a busload of tourists who had just arrived at the church. We opted instead to buy a bottle of wine and make a quick getaway.
Returning to town, we located a place to stay, with no bunkbeds this time. We climbed the incredibly steep, winding streets, admiring the colorful flowers that adorned nearly every window and balcony. On the edge of town was an ancient clock tower with a masked mechanical figure striking the hours. The streets were lined with many shops selling local products and souvenirs, and I was surprised to find the town to be a bit touristy, although not obnoxiously so.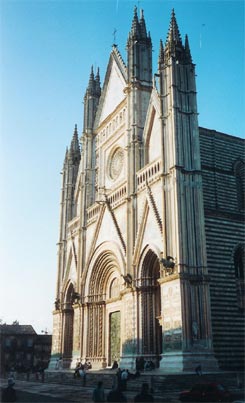 The following day, we set out for Umbria, a region in the heart of Italy that had been dominated by the Etruscans in ancient times, who had established many city-states in the area. Several towns in this area are worth visiting, but I had heard Orvieto described as the quintessential Italian city, so we headed there. It sits high on a hill, making it visible from a considerable distance, its cathedral towering above the town.
We quickly located a hotel in the center of the city close to the main attraction, the Duomo, or cathedral. Although I had heard that the Duomo was impressive, it was even more beautiful than I had imagined, with an ornately carved facade, covered by colorful gilded mosaics. Amazingly, it took over 300 years to build. The frescoes inside are also remarkable.
Along the large piazza in front of the Duomo are cafes and enoteche, serving the local crisp, white Orvieto wine. Although we've never been terribly fond of it, studying the details of the Duomo's facade while sitting in a cafe enjoying a glass of wine seemed like the natural thing to do.
There are quite a few museums in Orvieto, most housing Etruscan antiquities. We didn't need to visit a museum to see Etruscan treasures, however. At the conclusion of our dinner that night, the restaurant host insisted we descend a steep staircase. We weren't sure what we would find in the basement, but the host had seemed pretty enthusiastic about it. Below the restaurant was a cave containing Etruscan ruins. Although the pieces of pottery scattered about in the small cave's alcoves were not especially remarkable, we were struck by the realization that they had been there since the 5th or 6th century BC. Climbing back up to the restaurant, we found the host anxiously awaiting our reaction, and we made what we hoped were appropriately enthusiastic remarks, to which he seemed pleased.
Orvieto's Duomo is a popular tourist attraction, and the city's delightful alleyways – interesting buildings, palaces, and shops selling appealing ceramics and other local products – gave us plenty to do the next day. At the Museo Archeologico were many more Etruscan treasures, and we were able to learn fascinating details about that era of the area's history. We climbed a tower in the center of town offering sweeping views of the city. I wandered in and out of the pottery shops in search of the perfect piece with which to return home. Of course, we had to make an occasional stop at a sidewalk cafe for a refreshing glass of Orvieto wine.
We planned to visit more Etruscan towns upon leaving Orvieto, but had no particular destination in mind. It was a gloomy, damp day, and we didn't see anyplace in our travels that enticed us to stay. It was getting late, and we were beginning to worry that we would have to look for lodging in Rome, an intimidating prospect. I noticed a sign for Frascati, indicating it was only a few kilometers away. In the preceding days, we had been fortunate in our choices of towns for which wines are named, so I suggested we head to Frascati.
Fred declared, "But we don't like Frascati wine."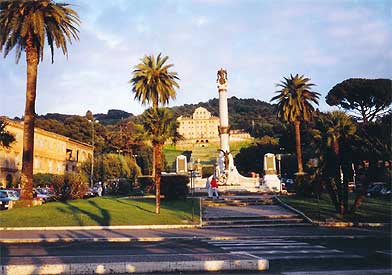 I pointed out that we hadn't been crazy about the wine from Orvieto either, but
sipping it while in the shadows of the lovely Duomo had given us a better appreciation for it. So once again, we headed off to a wine town that we could see on a hilltop not far away. As we arrived, the late afternoon sun suddenly broke through the clouds and shone down on a beautiful square that, to our amazement, was lined with palm trees! Our spirits lifted, and we parked our car in order to take a look around. There were throngs of people in the streets, out for a passagiata, the traditional evening stroll. Moving with the crowd, we soon found ourselves in a smaller square that was ringed with stands selling roasted pork. Oh, the aromas in that square! People were carrying away slabs of pork wrapped in white butcher paper for their evening meal, or simply grabbing a sandwich to snack on during their stroll. The temptation was too great to resist, so we bought sandwiches and sat down at a nearby sidewalk bar to enjoy some Frascati wine with our delicious porchetta. We spotted a small pensione across the square that would be an ideal spot to spend the night. Luck was with us, and we were soon settled into a lovely room with a balcony overlooking the square and views of Rome's lights twinkling in the distance.
We spent the next day wandering the streets of this pretty town, visiting the market, and sampling more porchetta along the way. We realized we were not far from the Rome airport, from which we would be leaving in a week, so we made reservations to come back for our final night.
As we set out the next day for the final leg of our trip, an indulgent wander along the Amalfi coast, we realized that without intending to, we had spent a week in wine towns. All had been charming and interesting, a fact that we felt would be useful on our future excursions around Italy since there are many more wine towns for us to discover.