Spring Skiing Stratton and Whistler, Part I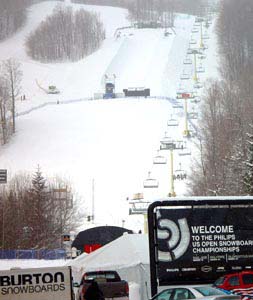 My buddy, Chris, works in Burlington, Vermont for Burton, and each spring he heads off to Stratton Mountain Resort in southern Vermont for the US Open Snowboarding Championships. He invited my brother and me to join him as volunteers on the banner crew, responsible for installing advertising signage in the days leading up to and during the competition. We immediately accepted the invitation.
When the telephone call came, I thought, You bet! Doubleheader… I mean, it seemed too good to be true. I was already headed out to Whistler Blackcomb for a short week of spring skiing during the third week in March. Jump start the adrenaline rush with a short week in Stratton before heading our west? No brainer! I was in.
The 2004 Philips US Open (March 15-21) would be my first "up close and personal" experience with the unabashedly "up close and personal" sport of snowboarding. Sure, I've spent plenty of time skiing on the same slopes with snowboarders, and a fair share of my own friends opt for one board instead of two when swooshing down alpine pistes. I've even had a go at it myself, but the snowboarding lifestyle and philosophy – and to consider it anything less is to miss the point entirely – remained alien and impenetrable to me. My buddy was offering me not only the opportunity to attend what is unquestionably the premier international snowboarding event for the past two decades, he was also inviting me to discover snowboarding culture by immersing myself in the most authentic, grassroots, snowboarding event around.

But there was a glitch. A calendar overlap. I'd have to miss the last three days of the US Open in order to make it out to Whistler, and our previously purchased airline tickets and accommodations left no room for changes. This meant that I'd witness the lead-up to the competition, have the opportunity to watch the trials and prelims and practice sessions, but would have to pull out just before the pros arrived and the bigger-than-life theatrics began. Unfortunate but not dire. After all, I'd be spending most of my time skiing Stratton's impressive (and, by eastern standards, vast) terrain.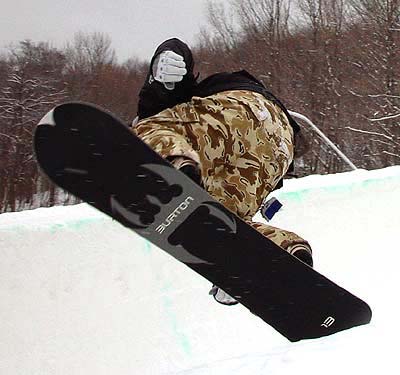 Despite missing the grand finale, I would still be around snowboarders 24x7 and, after all, Stratton is referred to as "The Birthplace of Snowboarding." At least by Intrawest, the company that owns and operates Stratton. And Whistler Blackcomb, as it turns out. Aha, a connection. The discovery that both ski resorts are extensions of the same corporation intrigued me. Owning (totally or partially) and operating almost a dozen ski resorts including Tremblant in Quebec, Copper in Colorado and Mammoth in California, Intrawest is no slouch. Their Corporate Overview states: "With the encroachment of work into every corner of our waking lives, never before has the notion of play been of greater value."
Now that's vision. Intrawest pledges to "Create memories for our guests and staff as the best mountain, beach and resort experience...again and again." Reading this corporate speak made me curious, so I decided to check out what Burton sees as its mission: "Burton Snowboards is a rider driven company solely dedicated to creating the best snowboarding equipment on the planet."
Hmmm… Creating memories for guests AND staff? Rider driven company? To be sure, corporate mission statements tend to be about as inspired or inspiring as yesterday's laundry, and altogether too "shoot for the stars and be the best" formulaic to serve as viable battle cries. But something about creating "memories for guests and staff" and "a rider driven company" resonated with what I've been attempting to develop and nurture at e-Margaux.com for the last year and a half. I keep trying, albeit unsuccessfully, to articulate the e-Margaux.com concept in practical, clear language, but so far the goal has eluded me.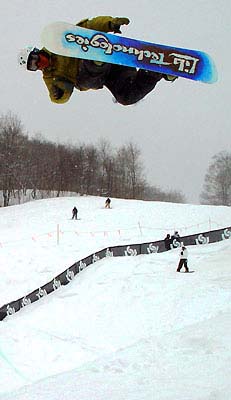 Suffice to say that the implications of prologue-ing my Whistler ski trip with four days at Stratton were no longer limited to discovering the snowboarding scene and warming up my technique for British Columbian glaciers. My week and a half spring skiing doubleheader would serve as professional development! Nothing less. It would move me one step closer to identifying, and perhaps eventually articulating, something intrinsic to The Margaux Project. Indeed, the implications of ski bumming around Stratton in the days prior to the US Open began to assume near epiphanic proportions… (Welcome to my world!)

My brother and I arrived on Sunday afternoon in time to get moved into Long Trail House (our relatively new – built 1999-2000 – and comfortable condominium), meet up with Chris (our Burton friend) and the rest of the gang, and head off to Mulligans for dinner. (Family dining, menu runs to salads, soups, burgers and steaks; located in the ski village; telephone: (802) 297-9293)

"Paris is over," our waitress informed us when we asked about the evening's specials. Turns out we had missed the weekly theme special, though it remained unclear what that would have been if we had arrived earlier. Our meal was substantial if not memorable, and the good microbrewed beer was the ideal carbo-load for a day on the slopes.

After dinner we received our mountain passes and a general overview of what our responsibilities would include over the next several days (setting up the advertising banners along the halfpipe in the morning, removing the advertising banners in the evening, and helping mount several larger advertising installments at competition staring gates). After a nightcap, Chris informed us that reveille would be early, and we all turned in for what would be our last full night of sleep.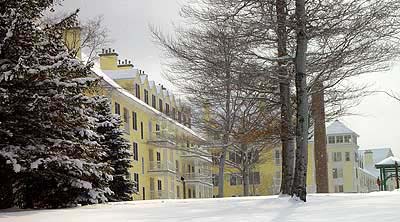 We awoke the following morning to the thrill of half a foot of new snow. After breakfast we headed off to the Stratton Mountain Sunbowl, the region of the resort where all of the US Open events would be concentrated, and received our assignments. The four of us (Chris, another Burton colleague, my brother and I) were equipped with communication radios and oversized drills to make holes in the packed snow for inserting the banner poles, and were ridden up the mountain on the back of snowmobiles. We dismounted at the halfpipe where the banners were stored, and before long we were drilling and mountain rows of flashy advertisements along both sides of the halfpipe.

What's a halfpipe? For the uninitiated, the halfpipe is one of the most important trick venues in freestyle snowboarding. Think of a channel shaped like the lower half of an enormous tube and carved out of hard packed snow. The walls of the tube are of equal height and consistent distance from one another (roughly 15-18 yards apart and 6 yards high) enabling snowboarders to maximize a pendulum motion as they ride back and forth while proceeding toward the bottom of the hill. Running well over one hundred yards in length, this tube permits snowboarders to ride downhill, ramping and performing tricks off of the opposing sides.
I'd caught glimpses of snowboarders in halfpipes on television and from chairlifts while riding over terrain parks on ski mountains. But I had never before stood on the edge, mere feet (sometimes even inches) from the bodies and boards of snowboarders being catapulted up into the air as they launched out of the halfpipe to perform tricks. While we made our way along the top edges of the halfpipe installing banners, snowboarders (mostly young and mostly male but from the four corners of the globe) vied for slots in the competition at week's end. They performed bizarre handstands on the halfpipe edges before plunging back into the tube and zooming back across to the other side. Or they launched high into the air, twisting, turning or flipping before dropping back into the tube. Trick after trick until they reached the bottom of the halfpipe. Occasionally one would fail to execute a trick successfully or would land before managing to get their snowboard back under his feet. In fact, crashes seemed frequent and dramatic, but severe bodily damage was rare.

It bears mentioning that snowboarding is not merely a sport. It is an attitude. A style (albeit an unabashedly self conscious and unstylish style) and a protocol. Even a vernacular. Perhaps a bit like surfing in its heyday, snowboarding has become a lifestyle. Boarders, as they refer to themselves, affect a quasi "rebel without a cause", quasi pampered adolescent demeanor. They have adopted and perfected the grunge look of the 90s, though they are indisputably brand-savvy and quick and willing to plaster their snowboards and clothing with advertisements for every sort of merchandise imaginable. Despite an exceedingly laid back disposition, boarders' interest and animation revs up a notch or two when it comes to discussing snowboarding tricks, maneuvers and equipment; other snowboarders; snow conditions, or bands and music related products like MP3 players. And when they get revved up, their speech is riddled with slang as cryptic as it is colorful.

If this outsider's view seems overly pejorative, let me attempt a more complementary counterpoint. Snowboarders are infused with a brazen fearlessness and willingness to take bold physical risk that is staggering to the neophyte observer. Snowboarding is an extreme sport! If snowboarders' comical costumes (baggy oversized parkas and ski pants scarcely concealing their posteriors, the crotch of their pants bunched between their knees) and inane utterances ("going big", "way phat", "totally core", "gibbing", etc.) simply qualify them as typical 21st century adolescents (in fact or in spirit), then the heart-stopping feats they attempt and often – miraculously often – succeed in executing deem them exceptional and even rather dazzling.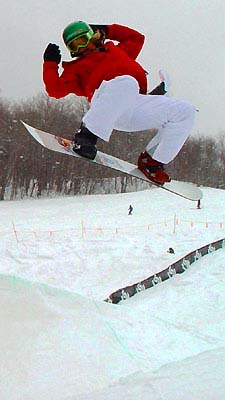 After setting up the banners, my brother and I headed off to ski. And ski we did. Since the mountain was new to us and since new snow had just arrived, every run was an adventure. We initially worked out the kinks on Upper Tamarack and North American, a couple of moderately challenging, broad snowfields with ample room for bumps and powder/groomed cruising on the same pistes. There were relatively few skiers on the hill, so the lift lines were negligible. Before long we had established a rhythm that would prevail throughout our stay: roughly 35% of our time was spent skiing and 65% on lifts. And this without lift lines! It's not that the lifts run so slowly; it's that the terrain is fast and slopes remained lightly populated throughout our time at Stratton. We also explored several of the Bear runs. Our favorite soon became Grizzly Bear, a relatively narrow, snow-filled trail with a couple of nice, loose zig-zags. some challenging bumps stretches, and fabulous fall-away jumps along the left side of the trail. At over 6 feet tall and over 200 pounds my brother and I both gravitate toward these sorts of lift-off opportunities to savor a rare taste of ether. The most disappointing trail was definitely Bear Down which had virtually waist-deep, solid ice moguls, yielding it almost unskiable. Frankly, it should have been better marked or closed.

We reconvened for lunch and then headed off to set up the advertising banners at the slopeside start gate. We used battery powered screw guns to mount about a dozen glossy, plastic panels on the wooden structure which wrapped around the judging booth. In about an hour we had transformed a 2x4 wooden skeleton into a rather photogenic marketing wonder for Philips, Jeep, Stratton, Sobe drinks and, of course, Burton. Once our task was completed, the rest of the afternoon was free for skiing. We took full advantage, continuing to familiarize ourselves with the mountain, pushing the fitness envelope more than the risk envelope to reduce the likelihood of a missing a day for bodily healing…
By the time we headed back to the Sunbowl and skied down to the halfpipe, we were exhausted. Or at least I was. My brother, who competes in thriathlons for pleasure and has a pain threshold about ten times that of the average mortal, was unphased. We made quick work of removing and storing the banners and headed back to the condo.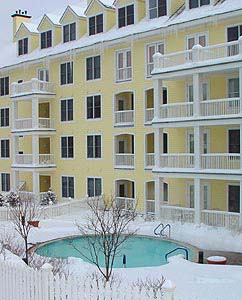 Cocktail in hand, we headed off to the outdoor hot tubs where we spent the next hour and change swapping war stories with other excited skiers. I met a couple who spend a week at Whistler every winter and who offered nothing but the highest recommendations. They'd never been out there for spring skiing, but assured me that the terrain was so vast and so challenging that whatever the conditions turned out to be, we'd have fun. They offered up suggestions for little known trails and magnificent views. I made mental notes to check out everything they'd recommended and caught myself reflecting on the undue luxury of a Stratton post-ski soak taxed with learning about my options the following week in Whistler. Things could be worse…

Chris collected us, a bit anxious that we'd let time get away from us. We had dinner reservations at The Perfect Wife which he'd promised to be an impressive meal, and being late was apparently not an acceptable option. So we raced back to our digs, threw on our clothes and headed off to Manchester for dinner. The drive was a bit longer than I expected, retracing part of the route by which we'd arrived the preceding day. It was surprising to pull into the parking lot after about half an hour on deserted country roads. We had to hunt for a vacant parking spot in the packed lot. There were easily several dozen cars, and we had a late seating. It looked promising.

This handsome New England home cum gourmet temple is no secret to foodies. In fact, the owner/chef Amy Chamberlain has attracted so much attention for her creative "freestyle cuisine" that our expectations were pretty high. And despite arriving with mountain-weary bodies and souls, our playful waitress immediately enlivened us with her dry sense of humor and proceeded to faun over us in a charming, attentive manner throughout the evening.

I started with a fresh baby spinach salad crowned with a goat cheese fritter. Sensational. Crisp baby greens sprinkled with lightly tasted pine nuts and complemented with a bacon flavored salad dressing. A rustic, hearty salad without being too heavy or filling. Then we shared several memorable appetizers including the addictive Peking duck with Mandarin pancakes and sautéd crabcakes. Our feisty waitress assured me that the crabcakes were just that and not breading cakes, and she couldn't have been more accurate. A sparing serving, but divine with remoulade, greens and tart vinaigrette.
Opting for a lighter, healthier main course than the previous evening's dinner, I ordered the sesame crusted yellowfin tuna. No surprises, but attractively presented and delicious. The sauce, a pleasantly robust Asian flavor, carried the rare to medium-rare seared tuna steak quite ably and even lent the dish more "weightiness" than I associate with seared tuna. My brother's jumbo shrimp scampi was also memorable. As rich and bold as you could wish for with plenty of garlic and butter.

By the time we made it back to bed, we could scarcely think straight for exhaustion and indulgence. Alarms set, we all fell asleep instantly. The next three days followed a similar routine. Wake early, set up the banners, ski until lunch, rendezvous over lunch to determine what special projects, if any (mount advertising panels on the halfpipe start structure, slope side start structure, etc.) needed to be tackled, complete any assignments, ski all afternoon, soak and recount hyperbolic skiing stories in the hot tub, drink, eat and sleep.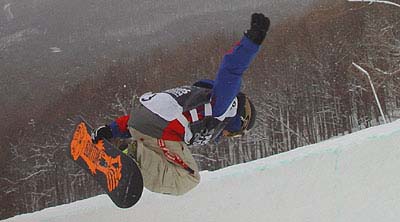 Stratton lifts open at 8:30 AM and run until 4:00 PM, so in spite of our banner crew responsibilities (which actually diminished as the days wore on and the ranks of Burton volunteers increased and the projects were completed) we managed to ski in excess of six hours every day. In addition to the runs I mentioned earlier, we also discovered some nice terrain and great snow (especially after it dumped a second time) on Upper and Lower Standard, Upper Spruce and Snow Bowl Alley. All told, Stratton Mountain Resort offers up some excellent skiing. In general, I would agree with a mountain guide we rode a lift with one morning who acknowledged a certain degree of "slope inflation", resulting in trails that are marginally less challenging than the marked degree of difficulty would imply. But we agreed that erring on the side of overestimation seemed like a prudent rule for a family oriented ski resort.

Advice to intermediate to advanced skiers? Take the Starship XII Gondola up the mountain in the morning, and remain high all day. You have access to all sorts of moderately challenging through expert runs, and you'll avoid the lift lines that tend to collect at the base. And you can even eat up on the mountain. Although we ate lunch each day at the Sunbowl Lodge with the other US Open volunteers and competitors, I did stop in at Aunti Chilada's on the mountain for a cocoa and brownie break, and can assure you that it would make a perfectly acceptable lunch spot. Especially if you like moist, oversized brownies!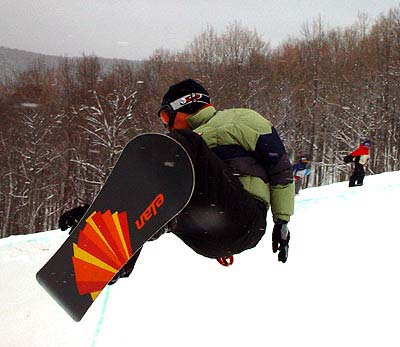 Of course, if I'd eaten lunch at Aunti Chilada's I would have missed one of the prime snowboarder observation venues. During the lead up to the US Open, the Sunbowl Lodge is the eats and schmoozing center for the single plank set. And it served as an important laboratory for me to study snowboarders off-slope, yielding ample fodder for the gross generalizations I trotted out earlier in this piece. But recall, patient reader, that I abridged my initial thesis… No, I quite blatantly veered from my preliminary goal of discovering and exposing snowboarding. Instead, my undisciplined mind wandered to Intrawest, wondered about the connections, the consistency of the Intrawest product. Which brings me to Whistler.

After all, I was skipping out of Stratton just before the main act, missing the US Open, in order to kidnap my girlfriend and head off to British Columbia for a short week of spring skiing at Whistler Blackcomb. So just as Chris and my brother were gearing up for the real fireworks, I packed up my gear, snapped a few last photographs, dialed the Whistler Blackcomb snow report on my cell phone (Snowphone: (604) 932-4211) and drove away, already daydreaming about the spring skiing conditions out west.

To be continued...